Great Lakes Region
Indiana, Kentucky, Michigan and Ohio
Great Lakes Region President
Mark Mendeszoon, DPM, FACFAS
Chardon, OH
Phone: (440) 285-4999
Contact the Great Lakes Region
---
Great Lakes Region Officers
Zeeshan S. Husain, DPM, FACFAS
Vice President
Rochester, MI
(248) 651-0162
Kimberly S. Barron, DPM, AACFAS
Secretary/Treasurer
Columbus, OH
(614) 293-3668
Great Lakes Residency Director Mentors
Timothy C. Ford, DPM, FACFAS
Jewish Hospital & KentuckyOne Health
Louisville, KY
(502) 897-1616
Joshua Rhodenizer, DPM, FACFAS
St John Hospital and Medical Center
Detroit, MI
(313) 343-6397
---
Recent Activity and Upcoming Events
ACFAS Great Lakes Region Membership Meeting
ACFAS Membership Meeting - Great Lakes Region:
Indiana, Kentucky, Michigan and Ohio
Date: Thursday, February 9
Time: 1-2 pm PT
Location: Los Angeles Convention Center, Room 153C

Your Region will be holding a meeting of its members during the 2023 ACFAS Annual Scientific Conference in Los Angeles. We hope that you can join us to meet your Region officers, hear about their support of local research and plans for the upcoming year, and more! Members who attend will be entered into a drawing for a $100 Amazon Gift Card.
We hope to see you in Los Angeles!
Calling All Young Researchers: Local ACFAS Regions Have Funds to Support Your Research Efforts
Application Deadline: January 13

Are you a student, resident or post graduate fellow presenting an accepted poster or manuscript at the ACFAS Annual Scientific Conference in February? Could you use some extra money to apply toward your travel costs? The ACFAS Regions can help!
If you've submitted a poster or manuscript that is accepted for presentation at the conference and you are interested in receiving funding from your local Region, complete an application for support. Poster submitters are potentially eligible for $250, and manuscript presenters are potentially eligible for $500. Complete rules for acceptance and provision of funds can be found on the application form.
Please submit the completed form directly to your Region's President (names and email addresses are available on the form) by Friday, January 13, 2023. Each Region will determine the number of awards they can provide based on the number of submissions received and will contact you directly with next steps.
The ACFAS Regions are happy to be able to support the next generation of researchers in their parts of the country.
ACFAS Great Lakes Region Funds Poster Research at the 2022 Annual Scientific Conference
In an effort to support research activities, the ACFAS Great Lakes Region provided funding to the following residents as poster presenters at ACFAS 2022 in Austin:
Posters:
Anatomic Description of the Calcaneocuboid Joint: Implications for Staple Fixation

Dominick J. Casciato, DPM; Alex Bischoff, DPM

Analysis of Plantar Fasciitis Websites using the DISCERN Instrument
Deana L. Lewis, DPM

Isolated Dorsal Plate Technique for Arthrodesis of the 1st Metatarsophalangeal Joint
Alex J. Bischoff, DPM; Ryan Stone, DPM; Ross Groeschl, DPM

First Tarsometatarsal (Lapidus) Arthrodesis Utilizing a Low-Profile Orthogonal Plating System for First Ray Hypermobility and Hallux Abducto Valgus Correction - Study of Radiographic Outcome
Lawrence Chen, DPM

Comparison of Complication Rates in Open Versus Endoscopic Gastrocnemius Recession: A Systematic Review
Luc Bibeau, DPM, AACFAS

Self-Reported Conflicts of Interests and Financial Disclosures in The Journal of Foot & Ankle Surgery: A Systematic Review
Dominick J.Casciato, DPM; Joey Brown, DPM; Sara Yancovitz, DPM

Orthoses Effect on Radiographic Measurements of Hallux Abducto Valgus: A Systematic Review
Mallory Kirkland, DPM; Blake Wallace, DPM

The Zadek Osteotomy for Treatment of Insertional Achilles Tendinopathy: A Systematic Review of Case Series
Alexandra T. Black, DPM, AACFAS

A Case Series of Three Patients with a Rare Pantalar Dislocation
Marissa Mogavero, DPM; Andrew Robitaille, DPM

Auto fusion of the ankle joint and its treatment modality: a case report
Ali Qadri, DPM

Ankle Arthrodesis Using an Inlaid Pedicled Fibula Graft for Late Stage Avascular Necrosis of the Distal Tibia Utilizing the Turnover Technique
Rami L. Basatneh, DPM; Jordan L. Young, DPM

Postoperative Calcaneal Osteomyelitis Management with Subsequent Revisional Reattachment of Achilles Tendon and Augmented Tendon Transfer.
Sean M. Kipp, DPM

Equinovarus Deformity Following Spinal Cord Tumor Resection: Multiplanar Correction to Treat Chronic Wound
Tariq K. Elagamy, DPM; Rafi Jarjous, DPM

Improving Survivorship in Partial Ray Amputations with the Addition of Calcium Phosphate Antibiotic Cement, a Case Series of 16 patients
Alexandra L. Nyquist, DPM; Natalie A. Spicer, DPM; Eric, C, Beaujon, DPM

Adenocarcinoma in Plantar Heel of Unknown Primary Source: A Case Report
Brianna Albers DPM; Joseph Lynott, DPM

Hypophosphatasia and Metatarsal Stress Fractures: A Case Report
Deana L. Lewis, DPM; Cameron McMahen, DPM

Tibiocalcaneal Arthrodesis with Intramedullary Fibular Peg Allograft and External Fixation for the Treatment of Talar Osteomyelitis
Andrew C. Falco, DPM; Daniel Reubens, DPM

The Split Peroneal Brevis Transfer: A Proven Procedure for Lateral Ankle Instability
John A. Martucci, DPM, AACFAS
Isolated Medial Malleolar Avulsion Fracture with Neglected Posterior Tibial Tendon Rupture: A Case Report
Joseph Saxon, DPM

Metastatic Adenocarcinoma Presenting as Metatarsal Stress Reaction: A Case Report
Trevor Norris, DPM

Chronic Enlarging Hematoma Following Hallux Amputation: A Case Report
Kevin N. Nguyen, DPM Amar Chandra, DPM

Treatment of recurrent ganglion cyst associated with tendon sheath
Maitri Patel, DPM

Plantar Pressure Mapping and Malleolar Valgus Index Restoration Following Pediatric Flatfoot Reconstruction
Ryan J. Stone, DPM; Alex J. Bischoff, DPM

Arthroscopic Decompression and Grafting of a Symptomatic Posterior Talar Body Bone Cyst
Sara Yancovitz, DPM

Minocycline Induced Blue Bone Disease Following Hallux Abducto Valgus Deformity Correction: A Case Study
Trey M. Edwards, DPM; Douglas J. Holder, DPM
Manuscripts:
Complications of Percutaneous Tendo-Achilles Lengthening for Treatment and Prevention of Diabetic Foot Ulcers: A Systematic Review
Benjamin P. Haberer, DPM
Targeted Muscle Reinnervation: Saphenous Nerve to Abductor Hallucis Motor Nerve Transfer
John M. Thompson, DPM, AACFAS; Dominick Casciato, DPM; Brian Houng, DPM, MS
Maintenance of Correction of the Modified Lapidus Procedure with a First Metatarsal to Second Metatarsal Screw with "Spot Weld" Technique: A Retrospective and Radiographic Analysis
John M. Thompson, DPM, AACFAS
Effects of Patient-Specific Instrumentation and Ancillary Surgery Performed in Conjunction with Total Ankle Implant Arthroplasty: Postoperative Radiographic Findings
Cody Togher; Stephanie Golding, DPM; Thomas D. Ferrise, DPM
Hounsfield Unit Assessed Bone Density amongst Non-Traumatic and Post-Traumatic Arthritic Total Ankle Arthroplasty Patients
John M. Thompson, DPM, AACFAS; Brian Houng, DPM, AACFAS
Anterior Ankle Incision Healing Complications with and without Tourniquet Use: A Retrospective Comparative Cohort Study
Andrea J Cifaldi, DPM, AACFAS; William O McGlone, DPM
Congratulations to these resident and post graduate fellow authors on their research!


ACFAS Great Lakes Region 2022 Meeting Outcomes
The Great Lakes Region held their annual meeting with ACFAS 2022 in Austin, TX on February 26. Mark Mendeszoon, DPM, FACFAS, Great Lakes Region President, led the discussion. The meeting provided an opportunity for members to meet Region officers and hear about our support and plans for the upcoming year including:
Great Lakes Region plans for a complications conference

More involvement with constituents within the Great Lakes Region by spreading the word and marketing
Region support of poster/manuscript presenters
Member attendees were entered into a drawing for a $100 Amazon Gift Card. Joseph Lynott, DPM was selected as the winner.
ACFAS Great Lakes Region Supports Student Scholar
ACFAS Region Scholars are funded by the ACFAS Region Presidents Council, specifically their home Region, and are usually the president-elect or an officer of their local ACFAS Student Club. Their local ACFAS Regions honor them as future leaders of the profession. Pictured below is Alexis Peters, '24, the 2022 Region Scholar from Kent State University College of Podiatric Medicine, along with Greg Still, DPM, FACFAS, Region Presidents Council Chair.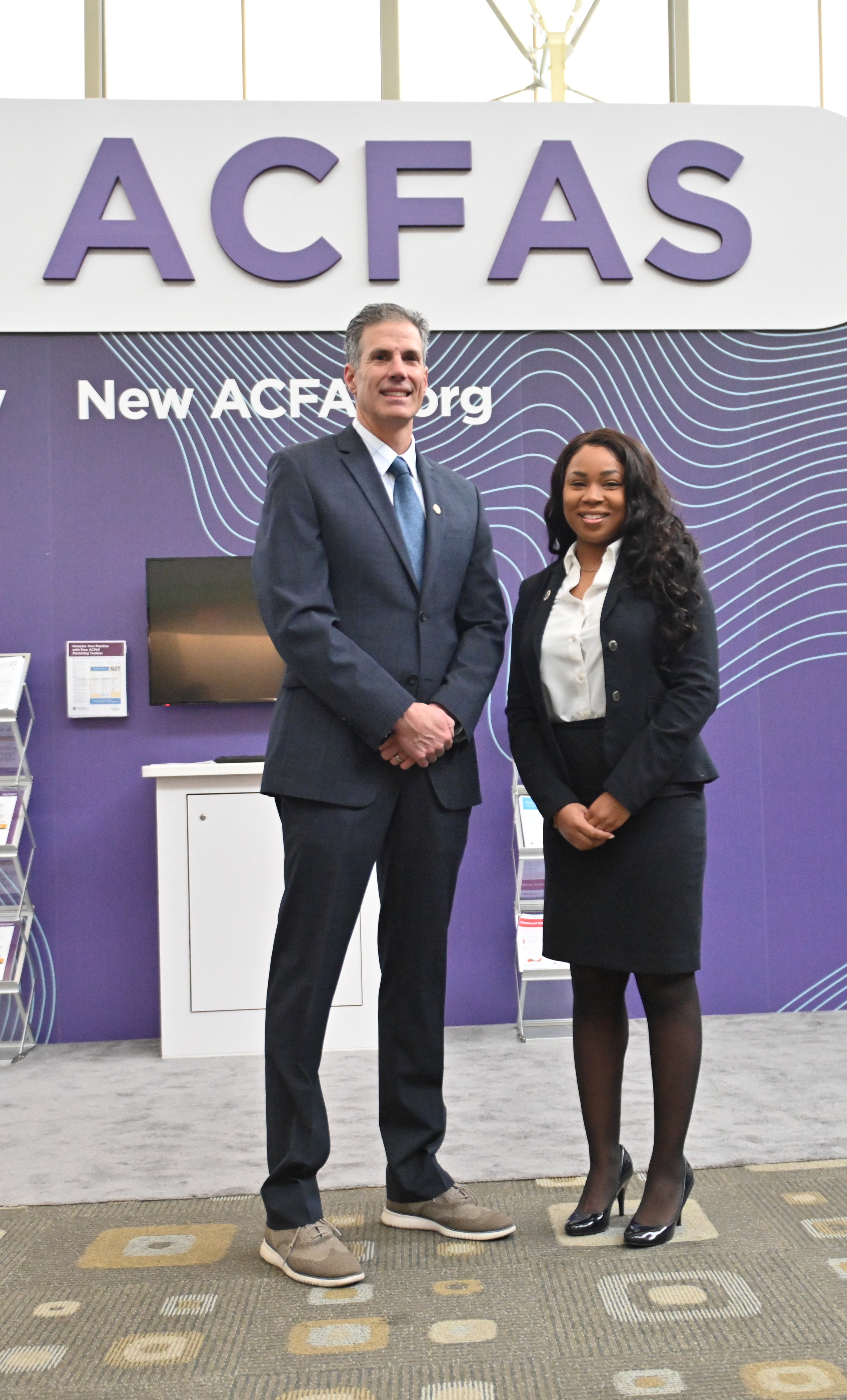 Congratulations to Alexis for being chosen as an ACFAS 2022 Region Scholar!
ACFAS Great Lakes Region New Officer Elected
Dear ACFAS Great Lakes Region Members:
As a result of the recent Great Lakes Region Call for Volunteers process and e-balloted election, the new Secretary/Treasurer of the Region is:
Kimberly S. Cravey, DPM, AACFAS
Congratulations to Dr. Cravey. Her term will commence immediately.
Thanks to all five candidates and to those members that took the time to vote. Please watch your email for information about the next membership meeting of the Great Lakes Region, to be held virtually via Zoom.


---
Region Goals for First Half of 2022
Attend Region Presidents Council Meeting held during the Annual Scientific Conference in Austin, TX.
Host ACFAS Great Lakes Region Meeting held during Annual Scientific Conference in Austin, TX
ACFAS Great Lakes Region support of posters and manuscripts presented at the Annual Scientific Conference in Austin, TX.
ACFAS Great Lakes Region planning of a residency education series including a case complication seminar.
Provide ACFAS Great Lakes Region education for students to prepare them for residency.
Continue to increase ACFAS Great Lakes Region involvement across all four states.
---
Dues
A portion of ACFAS member dues is allocated for Region activities. Regions use these funds to further the goals of ACFAS at the state and local level: to promote the superior care of foot and ankle surgical patients through education, research and promotion of the highest professional standards. Regions also work on outreach to students and residents, helping to give them a successful start in their careers as foot and ankle surgeons.
Regions are affiliate organizations of the American College of Foot and Ankle Surgeons. They are granted a charter and license to use the ACFAS name and logo, are mandated by their own articles of incorporation and bylaws, and remain separate entities from the parent organization.
For more information about Region activities, please contact Michelle Kennedy, ACFAS Director of Membership and Post Graduate Affairs.
---
Contact the ACFAS Region Presidents Council Chair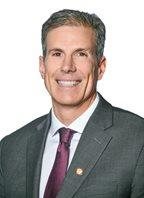 Gregory P. Still, DPM, FACFAS
Wheat Ridge, CO
Phone: (303) 422-6043