Mid-Atlantic Region
Maryland, North Carolina, South Carolina, Tennessee, Virginia, Washington DC and West Virginia.
Mid-Atlantic Region President
Erin R. Robles-Sherman, DPM, FACFAS
Washington, DC
Phone: (202) 223-4616
Contact the Mid-Atlantic Region
Mid-Atlantic Region Officers
Stanley Idiculla, DPM, FACFAS
Vice President
Herdon, VA
(703) 437-5353
Crystal-Dawn Bradshaw, DPM, AACFAS
Secretary/Treasurer
Charlotte, NC
(845) 489-8275
Mid-Atlantic Region Residency Director Mentors
Patrick Agnew, DPM, FACFAS
Eastern Virginia Medical School
Virginia Beach, VA
(757) 523-0414
Randy Clements, DPM, FACFAS
Carilion Roanoke Memorial Hospital
Roanoke, VA
(540) 981-7700
---
Recent Activity and Upcoming Events
Calling All Young Researchers:
Local ACFAS Regions Have Funds to Support Your Research Efforts
Application Deadline: January 2
Are you a student, resident or post graduate fellow presenting an accepted poster or manuscript at the ACFAS Annual Scientific Conference in February? Could you use some extra money to apply toward your travel costs? The ACFAS Regions can help!
If you've submitted a poster or manuscript that is accepted for presentation at the conference and you are interested in receiving funding from your local Region, complete an application for support. Poster submitters are potentially eligible for $250, and manuscript presenters are potentially eligible for $500. Complete rules for acceptance and provision of funds can be found on the application form.
Please submit the completed application form directly to your Region's officer (names and email addresses are available on the form) by Tuesday, January 2. Each Region will determine the number of awards they can provide based on the number of submissions received and will contact you directly with next steps.
Minimize your complications and maximize the results for your patients when you attend this comprehensive problem-based seminar, which will focus on complications associated with foot and ankle surgery.
Lectures are case-based presentations of complications that happen to all of us and will offer an engaging and unique learning experience as faculty and audience discuss cases.
Mid-Atlantic Region Membership Meeting
The Mid-Atlantic Region held their annual meeting with ACFAS 2023 in Los Angeles, CA on February 11. Erin Robles-Sherman, DPM, FACFAS, Mid-Atlantic Region President, led the discussion. The meeting provided an opportunity for members to meet Region officers and hear about their plans for the upcoming year including:
Local member support opportunities for events such as marathons in the Mid-Atlantic Region
Mid-Atlantic Region support of poster/manuscript presenters at the Annual Scientific Conference
Mid-Atlantic Region support of Resident/Fellow research
New ACFAS region Complications course
Student engagement at College level – suture workshops, etc.
Attendees were entered into a drawing for a $100 Amazon Gift Card. Dominick Casciato, DPM, AACFAS was selected as the winner.
Dominick Casciato, DPM, AACFAS
ACFAS Mid-Atlantic Region Funds Poster Research at the 2022 Annual Scientific Conference
In an effort to support research activities, the ACFAS Mid-Atlantic Region provided funding to the following residents as poster presenters at ACFAS 2022 in Austin:
Posters:
Tensile Strength of the Medial Collateral Ligament of the Hallux

Marisa Mosier; Trenton Leo, DPM

Peripheral Perfusion in Patients Heel Ulcerations that Underwent Below the Knee Amputations versus Vertical Contour Calcanectomy
Helene R. Cook, DPM; Jonathan Tenley, DPM

Outcomes in Drainage Ankle Disarticulation versus Guillotine Transtibial Amputation in the Staged Approach to Below Knee Amputation
Alissa M. Mayer, DPM

An Underutilized Technique: Box Joint Arthrodesis of the PIPJ for Correction of Hammertoe Deformity Without Use of K-wires or Commercial Implants
Kyle D. Miller, DPM

The Incidence of Bunions in the Setting of Brachymetatarsia
Michael A. Thomas, DPM, MS, AACFAS; Yumna Siddiqui, DPM; Cassandre Charles, DPM

Treatment of Plantar Fasciitis with Botulinum Toxin: A Systematic Review and Meta-Analysis
Firras S. Garada, DPM; Marian R. Kavanaugh, DPM

Prophylactic Irradiation for the Prevention of Heterotopic Ossification After Foot Amputations
Amber M. Kavanagh, DPM; Kelly McKeon, DPM

Multicentric Epithelioid Angiosarcoma of the Foot With Osseous Invasion and Distant Metastasis: A Case Report
Jonathan D. Furmanek, DPM, HTL

Atypical Presentation of a Giant Cell Tumor of Tendon Sheath in a Symptomatic Hallux Rigidus Deformity: A Case Report
Hayden L. Hoffler, DPM; Clark K. Brackney, DPM

Minimally Invasive Fibular Intramedullary Nail to Address Ankle Fractures Compounded by Medical Comorbidities
Brandon Selby Blanken, DPM; Namrata Daru, DPM

Staged Total Talar Replacement in the Incidence of High-Energy Trauma
Brandon Selby Blanken, DPM; Trenton Leo, DPM; Adam Bhatti, DPM

The Modified Lepird Procedure for Correction of Metatarsus Adductus with Concomitant Hallux Valgus Deformity in Skeletally Mature Patients
Devrie E. Stellar, DPM; Ana Emirzian, DPM; Sean Lyons, DPM

Forefoot Reconstruction of a Pediatric 2nd Digit Macrodactyly: A Case Report and Surgical Description
Jared C. Melman, DPM; Lant J. Abernathy, DPM; Matthew E. Greenblatt, DPM

Staple And Plate Fixation As A Viable Technique For Early Weight-Bearing With Joint Fusion Procedures
Namrata Daru, DPM; Trenton Leo, DPM

Surgical Reconstruction of Bilateral Dropfoot Utilizing the Bridle Procedure and Achilles Tenotomy: A Case Report
Paulina Piekarska, DPM, AACFAS
Manuscripts:
Risks Factors Associated with Major Lower Extremity Amputation after Vertical Contour Calcanectomy

Helene R. Cook, DPM

A Systematic Review of Hindfoot Arthrodesis Fusion Rates: Double versus Triple Arthrodesis
Alissa M. Mayer, DPM; Jonathan Tenley, DPM

Comparing Outcomes of Acute Vs. Gradual Lengthening in the Setting of Brachymetatarsia
Michael A. Thomas, DPM, MS, AACFAS; Yumna, Siddiqui, DPM; Cassandre, Charles, DPM

Early Outcomes with the Vantage Total Ankle Prosthesis
Matthew A. King, DPM; Bryanna D. Vesely, DPM, MPH
Congratulations to these resident and post graduate fellow authors on their research!
---
Region Goals for First Half of 2023
Attend Region Presidents Council Meeting held during the Annual Scientific Conference in Los Angeles, CA
Host ACFAS Mid-Atlantic Region Meeting held during Annual Scientific Conference in Los Angeles, CA
ACFAS Mid-Atlantic Region support of posters and manuscripts presented at the Annual Scientific Conference in Los Angeles, CA
Mid-Atlantic Region support of local marathons and races
---
Dues
A portion of ACFAS member dues is allocated for Region activities. Regions use these funds to further the goals of ACFAS at the state and local level: to promote the superior care of foot and ankle surgical patients through education, research and promotion of the highest professional standards. Regions also work on outreach to students and residents, helping to give them a successful start in their careers as foot and ankle surgeons.
Regions are affiliate organizations of the American College of Foot and Ankle Surgeons. They are granted a charter and license to use the ACFAS name and logo, are mandated by their own articles of incorporation and bylaws and remain separate entities from the parent organization.
For more information about Region activities, please contact Michelle Kennedy, ACFAS Director of Membership and Post Graduate Affairs.
---
Contact the ACFAS Region Presidents Council Chair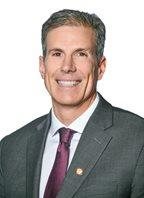 Gregory P. Still, DPM, FACFAS
Wheat Ridge, CO
Phone: (303) 422-6043