Midwest Region
Illinois, Iowa, Minnesota, Missouri and Wisconsin
Midwest Region President
Jeffrey R. Baker, DPM, FACFAS
Chicago, IL
Phone: (847) 390-7666
Contact the Midwest Region
---
Midwest Region Officers
Adam E. Fleischer, DPM, FACFAS
Vice President
North Chicago, IL
(847) 473-4357
Brian J. Burgess, DPM, FACFAS
Secretary/Treasurer
Joliet, IL
(815) 744-4551
Midwest Region Residency Director Mentors
Randall L. Dei, DPM, FACFAS
Columbia St Mary's Hospital; Wheaton
Franklin, WI
(414) 425-9340
---
Recent Activity and Upcoming Events


ACFAS Midwest Region Membership Meeting
ACFAS Membership Meeting - Midwest Region:
Illinois, Iowa, Minnesota, Missouri and Wisconsin
Date: Friday, February 10
Time: 1-2 pm PT
Location: Los Angeles Convention Center, Room 153B

Your Region will be holding a meeting of its members during the 2023 ACFAS Annual Scientific Conference in Los Angeles. We hope that you can join us to meet your Region officers, hear about their support of local research and plans for the upcoming year, and more! Members who attend will be entered into a drawing for a $100 Amazon Gift Card.
We hope to see you in Los Angeles!


Calling All Young Researchers: Local ACFAS Regions Have Funds to Support Your Research Efforts
Application Deadline: January 13

Are you a student, resident or post graduate fellow presenting an accepted poster or manuscript at the ACFAS Annual Scientific Conference in February? Could you use some extra money to apply toward your travel costs? The ACFAS Regions can help!
If you've submitted a poster or manuscript that is accepted for presentation at the conference and you are interested in receiving funding from your local Region, complete an application for support. Poster submitters are potentially eligible for $250, and manuscript presenters are potentially eligible for $500. Complete rules for acceptance and provision of funds can be found on the application form.
Please submit the completed form directly to your Region's President (names and email addresses are available on the form) by Friday, January 13, 2023. Each Region will determine the number of awards they can provide based on the number of submissions received and will contact you directly with next steps.
The ACFAS Regions are happy to be able to support the next generation of researchers in their parts of the country.
ACFAS Midwest Region Funds Poster Research at the 2022 Annual Scientific Conference
In an effort to support research activities, the ACFAS Big West Region provided funding to the following residents as poster presenters at ACFAS 2022 in Austin:
Posters:
Prevalence of Malnutrition in Diabetic Foot Ulceration Patients Using the Academy of Nutrition and Dietetics and American Society of Parenteral and Enteral Nutrition (ASPEN) Recommended Diagnostic Characteristics

Christopher Girgis, DPM

Early weightbearing of Lapidus has little affect on nonunion rates
Kayla Deblauw, DPM

Short-Term Results Comparing Oral Prednisone to Eccentric Stretching for Insertional Achilles Tendinitis: A Retrospective Review
Kanika Kochhar, DPM; Saima Sardar, DPM

Peroneal Tendon Repair Using A Synthetic Nanofiber Matrix: A Case Series
Ryan D. Prusa, DPM; Zachary J. Bliek, DPM

The Efficacy of Adhesive Felt Padding for Offloading Diabetic Plantar Foot Ulcerations
Jaclyn Schumann, DPM; Clare Cormier, DPM

Anastomosis of Superficial Peroneal Nerve to Deep Peroneal Nerve and Saphenous Neurectomy for Revision of Failed Midfoot Fusion
Beth B. Reittinger, DPM; Krishan K. Singh, DPM

The Lateral Kidner Procedure to Remove a Non-united 5th Metatarsal Base Avulsion Fragment and Re-establish Peroneal Function: A Cases Series to Demonstrate Patient Selection and Surgical Technique Pearls
Kristen M. Brett, DPM; Collin G. Messerly, DPM

Acute Hematogenous Methicillin-Resistant Staphylococcus Aureus of the Talus Following Scalp Infection: A Case Report
Andy Archuleta, DPM; Melinda S. Nicholes, DPM

Incidence of Nonunion Following Naviculocuneiform Arthrodesis - A Retrospective Review of 67 Cases
Steven A. Tocci, DPM; Jacob A Harder, DPM; Andrew M. Ganshirt, DPM; David M Sved, DPM; Joseph F. Albers, DPM


Manuscripts:
Midfoot Fusion for Hallux Valgus Deformity: A Retrospective Comparison of Two Joint Prep & Fixation Constructs Regarding Outcomes Including Initial and Midterm Correction of Deformity
Chloe F. Sakow, DPM, MPH; Tyler Sorensen, DPM; Howard C. Chang, DPM
A Comparison of Crossed Screw Versus Plates Constructs for Fixation in the Lapidus Procedure: A Systematic Review and Meta-analysis
Matthew R. Sieloff, DPM; Jake T. Wagner, DPM; Shailer B. Martin II, DPM
Congratulations to these resident and post graduate fellow authors on their research!


ACFAS Midwest Region 2022 Meeting Outcomes
The Midwest Region held their annual meeting with ACFAS 2022 in Austin, TX on February 24. Jeffrey Baker, DPM, FACFAS, Midwest Region President, led the discussion. The meeting provided an opportunity for members to meet Region officers and hear about our support and plans for the upcoming year including:
Midwest Region plans for November 4-5 Regional Learning Program
Midwest Region support opportunities

Region support of poster/manuscript presenters

Opportunity for Midwest Region to support marathons
Member attendees were entered into a drawing for a $100 Amazon Gift Card. Katie LaViolette, DPM, AACFAS was selected as the winner.
ACFAS Midwest Region Supports Student Scholars
ACFAS Region Scholars are funded by the ACFAS Region Presidents Council, specifically their home Region, and are usually the president-elect or an officer of their local ACFAS Student Club. Their local ACFAS Regions honor them as future leaders of the profession. Pictured below is Megan Palmer, '24, the 2022 Region Scholar from Des Moines University College of Podiatric Medicine; and Taha Mahmood, '25, the 2022 Region Scholar from Scholl College of Podiatric Medicine. They are joined by Jeff Baker, DPM, FACFAS, Midwest Region President.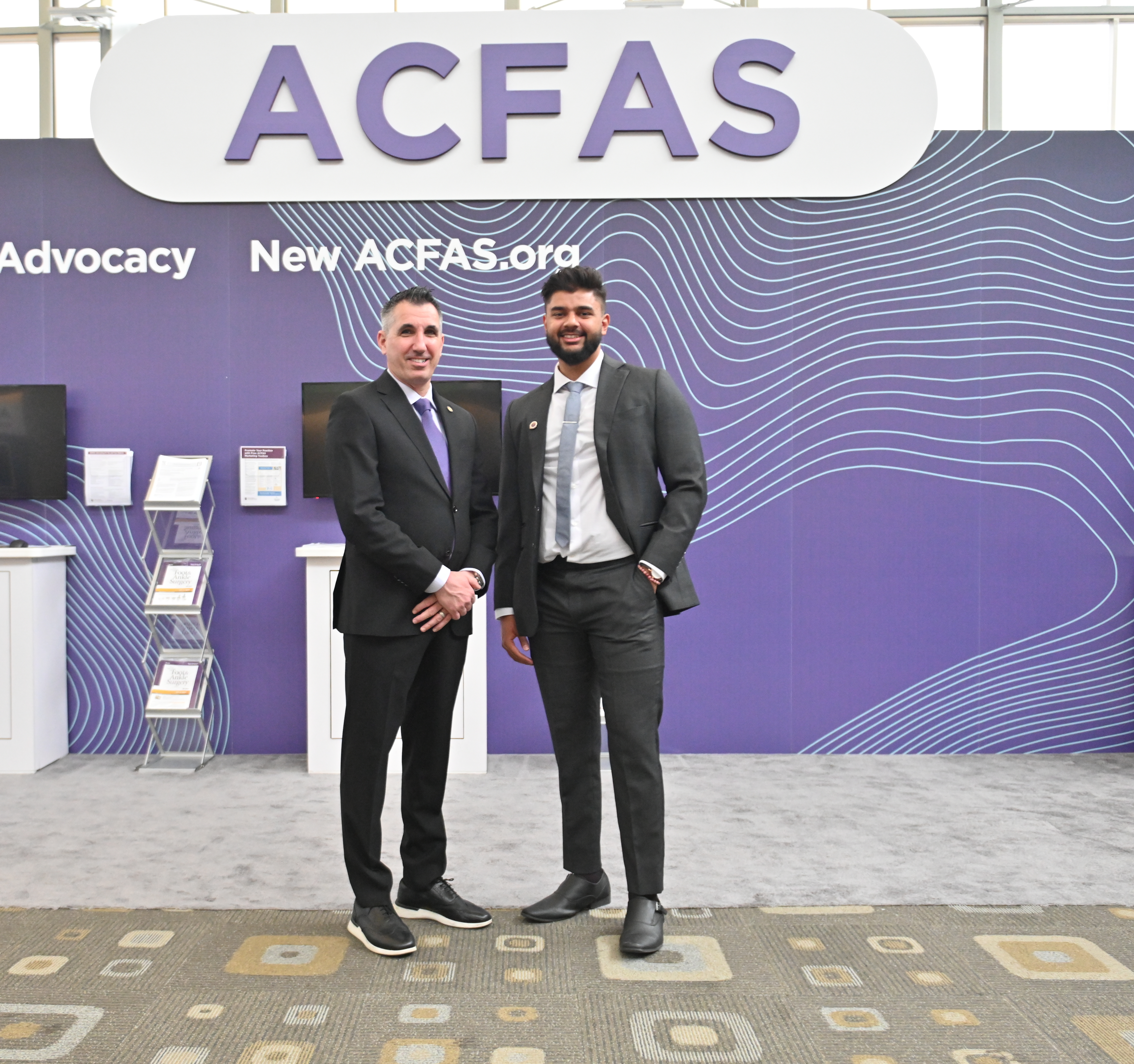 Congratulations to Megan and Taha for being chosen as ACFAS 2022 Region Scholars!
Save the Date: New Region Learning Programs
Midwest Region
November 5-6, 2021
St. Louis, MO
Are you looking forward to getting back to in-person meetings and educational offerings? It's almost time to get back to normal!
The College is launching a new pilot educational Region Learning Program. These two-day courses will combine case presentations, lightning lectures and hands-on labs, enabling attendees to gain insight into the depth and breadth of your current foot and ankle knowledge. Attendees will walk away with a better understanding of contributing factors associated with foot and ankle surgery complications and will be able to apply new skills to help you maximize function and restore structure.
The College has scheduled courses in the Mid-Atlantic and Midwest Region for Fall 2021, and courses will be held in the Big West, Tri-State and Southeast Regions in Spring 2022.
Please watch your email for more information to come!
ACFAS Midwest Region New Officer Elected
Dear ACFAS Midwest Region Members:
As a result of the recent Mid-Atlantic Region Call for Volunteers process and e-balloted election, the new Secretary/Treasurer of the Region is
Brian Burgess, DPM, FACFAS
Congratulations to Dr. Burgess. His term will commence on March 1, in conjunction with the next meeting of the College's Region Presidents Council (RPC).
Thanks to all of the candidates and to those members that took the time to vote. Please watch your email for information about the next membership meeting of the Midwest Region, to be held at the ACFAS Annual Scientific Conference in Las Vegas in May.
---
Region Goals for First Half of 2022
Attend Region Presidents Council Meeting held during the Annual Scientific Conference in Austin, TX.
Host ACFAS Midwest Region Meeting held during Annual Scientific Conference in Austin, TX
ACFAS Midwest Region support of posters and manuscripts presented at the Annual Scientific Conference in Austin, TX.
ACFAS Midwest Region support of ACFAS Student Clubs (Scholl and DMU), including site visits.
ACFAS Midwest Region support of residents and posters.
---
Dues
A portion of ACFAS member dues is allocated for Region activities. Regions use these funds to further the goals of ACFAS at the state and local level: to promote the superior care of foot and ankle surgical patients through education, research and promotion of the highest professional standards. Regions also work on outreach to students and residents, helping to give them a successful start in their careers as foot and ankle surgeons.
Regions are affiliate organizations of the American College of Foot and Ankle Surgeons. They are granted a charter and license to use the ACFAS name and logo, are mandated by their own articles of incorporation and bylaws, and remain separate entities from the parent organization.
For more information about Region activities, please contact Michelle Kennedy, ACFAS Director of Membership and Post Graduate Affairs.
---
Contact the ACFAS Region Presidents Council Chair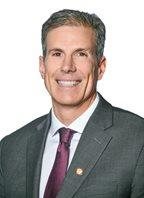 Gregory P. Still, DPM, FACFAS
Wheat Ridge, CO
Phone: (303) 422-6043