Southeast Region
Florida, Georgia and Puerto Rico
Southeast Region President
Joshua Daly, DPM, MBA, FACFAS
Royal Palm Beach, FL
Phone: (561) 793-6170
Contact the Southeast Region
---
Southeast Region Officers
Teddy Musselman, DPM, FACFAS
Vice President
Jacksonville, FL
Joshua Sebag, DPM, FACFAS
Secretary/Treasurer
Port Saint Lucie, FL
Southeast Residency Director Mentors
Jason A. Piraino, DPM, MS, FACFAS
UF Health Jacksonville
St. Augustine, FL
(267) 235-6918
Marie L. Williams, DPM, FACFAS
Aventura Hospital and Med Center
Aventura, FL
(305) 932-9232
---
Recent Activity and Upcoming Events
Calling All Young Researchers:
Local ACFAS Regions Have Funds to Support Your Research Efforts
Application Deadline: January 2
Are you a student, resident or post graduate fellow presenting an accepted poster or manuscript at the ACFAS Annual Scientific Conference in February? Could you use some extra money to apply toward your travel costs? The ACFAS Regions can help!
If you've submitted a poster or manuscript that is accepted for presentation at the conference and you are interested in receiving funding from your local Region, complete an application for support. Poster submitters are potentially eligible for $250, and manuscript presenters are potentially eligible for $500. Complete rules for acceptance and provision of funds can be found on the application form.
Please submit the completed application form directly to your Region's officer (names and email addresses are available on the form) by Tuesday, January 2. Each Region will determine the number of awards they can provide based on the number of submissions received and will contact you directly with next steps.
Thinking Locally
ACFAS Southeast Region President Josh Daly, DPM, MBA, FACFAS visited with the ACFAS Barry Student Club to teach them all about the College and provide a sawbones lab. Drs. Taylor Bergstrom and Liz Connolly, residents at HCA Florida JFK Hospital, were there to assist.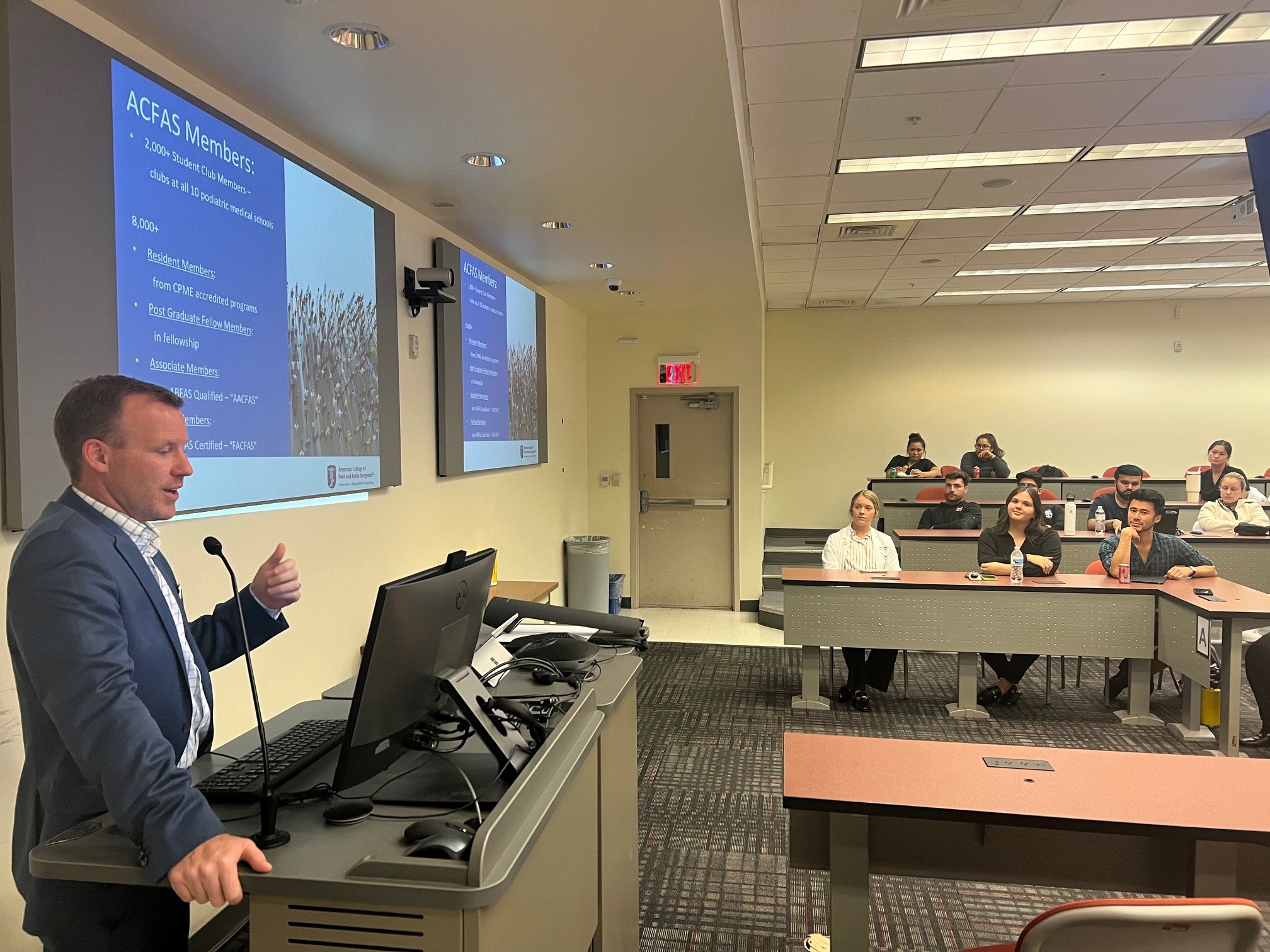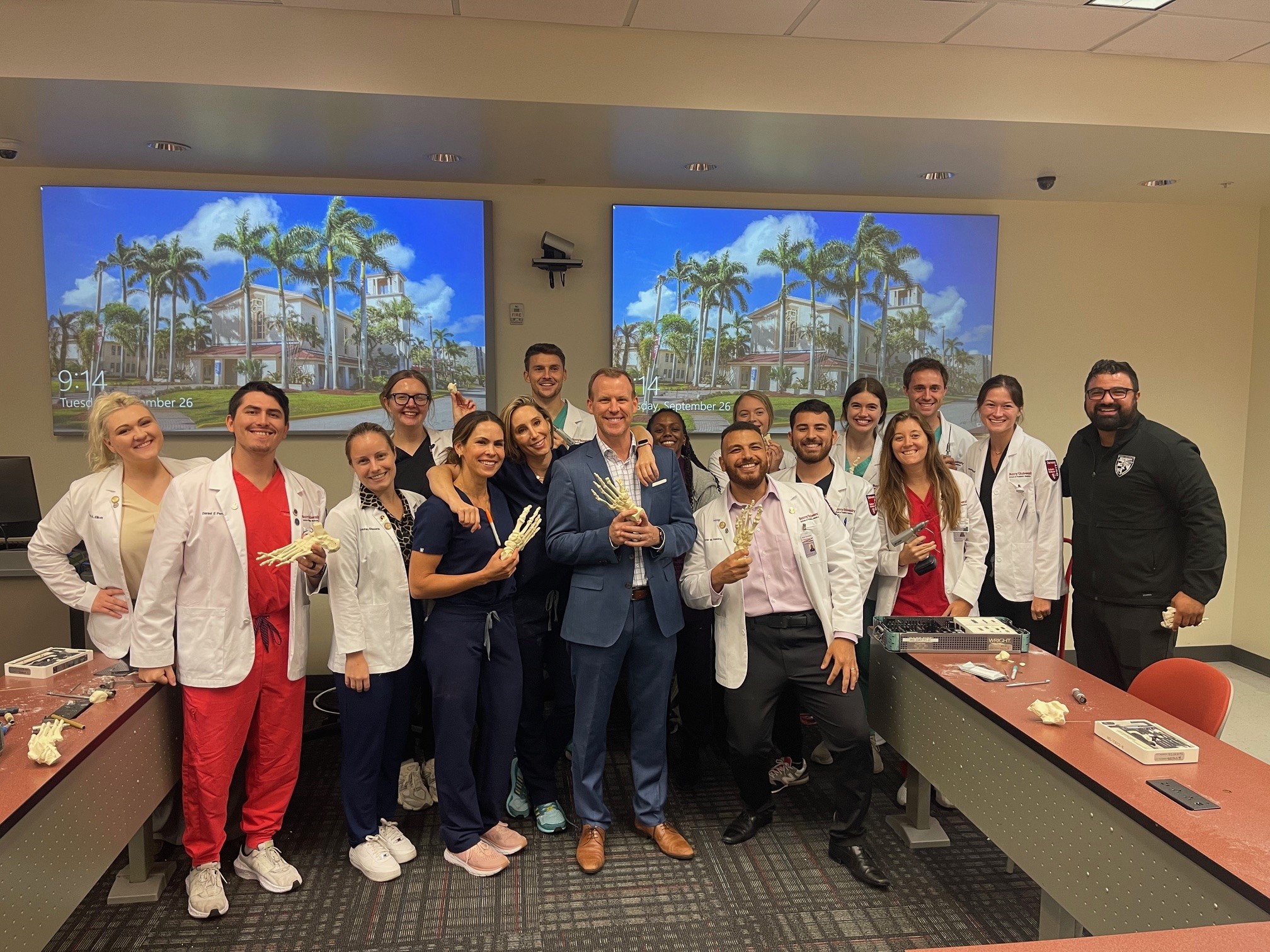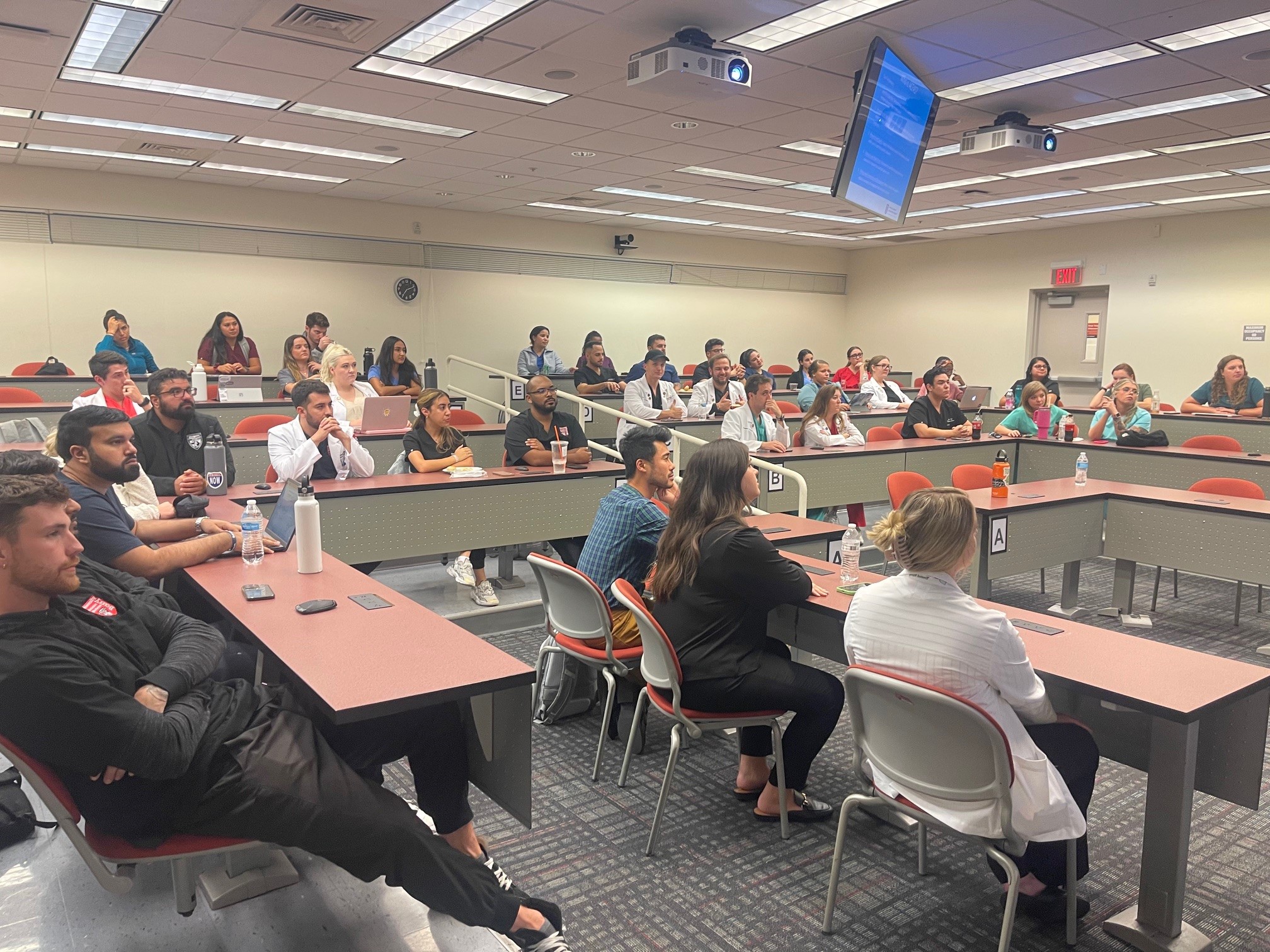 Southeast Region Membership Meeting
The Southeast Region held their annual meeting with ACFAS 2023 in Los Angeles, CA on February 10. Joshua Daly, DPM, FACFAS, Southeast Region President, led the discussion. The meeting provided an opportunity for members to meet Region officers and hear about their plans for the upcoming year including:
Southeast Region support of poster/manuscript presenters at Annual Scientific Conference
Future plans for a Region Complications course
Southeast Region plans to visit Barry
Southeast Region support to encourage future College applicants to pursue podiatry
Attendees were entered into a drawing for a $100 Amazon Gift Card. Thomas Ferrise, DPM was selected as the winner.


ACFAS Southeast Region Funds Poster Research at the 2022 Annual Scientific Conference
In an effort to support research activities, the ACFAS Southeast Region provided funding to the following residents as poster presenters at ACFAS 2022 in Austin:
Posters:
Mid-term Outcomes of Endoscopic Debridement for Chronic Plantar Fasciitis
Joseph R. Wolf, DPM, AACFAS
Shortening Associated with Planar Resection of First Metatarsocuneiform Joint Arthrodesis, A Retrospective Study
Stephanie L. Golding, DPM, Thomas D. Ferrise, DPM, Cody J. Togher, DPM, AACFAS and Jacob Ivey, DPM
Fusion Rates of First Tarsometatarsal Arthrodesis with Shear Strain Relieved Bone Grafting for Hallux Abductovalgus Deformity Compared to Traditional Autogenous Bone Grafting
Zinnia M. Rocha, DPM, AACFAS and Robert A. Burdi, Jr., DPM, AACFAS
Efficacy of Nerve Transfers to Restore Sensation to the Foot
Justin R. Carney, DPM and Spencer L. Keane, DPM
Naviculocuneiform Arthrodesis in Pediatric Flatfoot: A Systematic Review
Hannah R. Schneiders, DPM
Amniotic allograft injections in achilles tendinopathy: a case series
Michael Nelson, DPM
Outcome of Minimally Invasive and Percutaneous Techniques in Medializing Displacement Calcaneal Osteotomy: A Systematic Review and Meta-Analysis
Elias L. Gomatos, DPM, J. Karim Ead, DPM, MS, Miranda Göransson, DPM and Thomas C. Arena, DPM
A novel approach to salvaging the second metatarsal with large segmental loss
Abir W. Ghumrawi, DPM
New novel advances for fixation technique of Distal Chevron (Austin) Osteotomy using Allograft
Arles Jhan Rustia, DPM
Stress Fracture Complication of Second Metatarsal Following Triplanar Tarsometetarsal Arthrodesis Surgery for Hallux Valgus with Kirschner Wire
Conor R. Keeley, DPM, Kathryn T. Cecere, DPM, Jacob M. Perkins, DPM and Lindsay M. Short, DPM
Utility of Triplanar External Fixator as Definitive Management for Comminuted Forefoot Trauma of High Energy Injuries
Conor R. Keeley, DPM, Kathryn T. Cecere, DPM, Jacob M. Perkins, DPM and Michael J. Radcliffe, DPM
Syme's amputation: Survival Rate compared to that of known Below the Knee Amputation
Felitsa Lozano-Garcia, DPM
Tibiocalcaneal Arthrodesis Utilizing a Vascularized Fibular Graft for Complex Limb Deformity Correction: A Comprehensive Orthoplastic Approach
Garrett B. Nguyen, DPM and Phillip M. Calaj, DPM
Incidence of Complications Following Distal 1st Metatarsal Osteotomy Fixated with a Stemmed Intra-osseous Plate for Treatment of Hallux Valgus Deformity: A Case Series
Jacqueline C. Lucke, DPM, Jacob M. Perkins, DPM and Joseph A. Cote, DPM
Comparison of First Metatarsophalangeal Joint Arthrodesis with Bone Marrow Aspirate Enriched Allograft and Structural Autograft
Julio D. Perez-Mustelier, DPM, AACFAS
Case Study: Delayed Treatment of Asymptomatic Vertical Talus Variant
Julio Gutierrez, DPM and Divyesh Mehta, DPM
Calcaneal Fat Pad Restoration For Excised Soft Tissue Tumors
Sarah Gostich, DPM
Percutaneous Injection of Calcium Phosphate Bone Substitute into a Chronic Calcaneal Bone Marrow Lesion Associated with a Fragility/Insufficiency Fracture: A Case Report
Tarak H. Amin, DPM, AACFAS
Reducing Recurrence: Excision of Plantar Fibromas with Adjunctive Application of Mitomycin C
Taylor R. Tendrich, DPM, Katherine Backstrand, DPM and Zohaib Moon, DPM
Analysis of Surgical Cases of Tarsal Tunnel Syndrome in Our Department: Case Series
Sana Mohamed, DPM and Saluja Mahabamunuge, DPM
Proof! Not all Lapidus' Need to be Derotated
Chandler Ligas, DPM and Shayla Robinson, DPM
Naviculocuneiform Arthrodesis in Pediatric Flatfoot: A Systematic Review
Hanna Schneiders, DPM, Chandler Ligas, DPM and Jeanne Mirbey, DPM
Reclassifying the Lauge Hansen Classification System
Chandler Ligas, DPM and Kwame Doh, DPM
Manuscripts:
A Comprehensive Soft Tissue Reconstruction for Charcot-Marie-Tooth Foot and Ankle Deformities
James M. Steriovski, DPM, MBA
An Analysis of 50 Consecutive Total Ankle Replacements undergoing Pre-operative CT Scan-based, Engineer-provided Planning from a Single Non-Inventor, Non-Consultant Surgeon
Garrett Biela, DPM
Congratulations to these resident and post graduate fellow authors on their research!


ACFAS Southeast Region Supports Student Scholar
ACFAS Region Scholars are funded by the ACFAS Region Presidents Council, specifically their home Region, and are usually the president-elect or an officer of their local ACFAS Student Club. Their local ACFAS Regions honor them as future leaders of the profession. Pictured below is Sheena Cherukara '24, the 2022 Region Scholar from Barry University College of Podiatric Medicine, along with Andre Williams, DPM, FACFAS, Southeast Region President.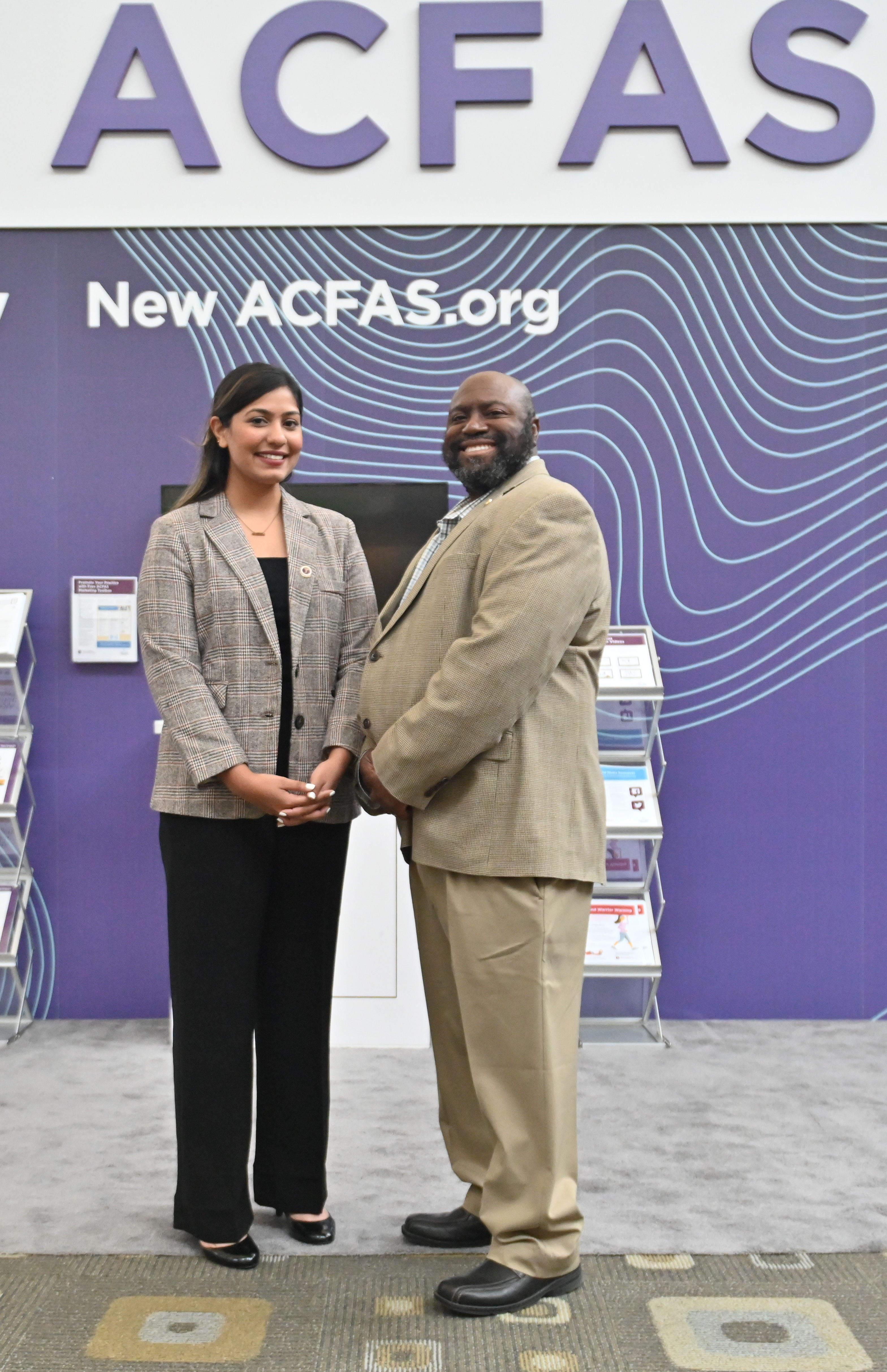 Congratulations to Sheena for being chosen as an ACFAS 2022 Region Scholar!


ACFAS Southeast Region New Officer Elected
Dear ACFAS Southeast Region Members:
With the recent Southeast Region Call for Volunteers process, one ACFAS member submitted his interest, and is now the new ACFAS Southeast Region Secretary/Treasurer:
Teddy Musselman, DPM, FACFAS
Congratulations to Dr. Musselman.
---
Region Goals for First Half of 2023
Attend Region Presidents Council Meeting held during the Annual Scientific Conference in Los Angeles, CA
Host ACFAS Southeast Region Meeting held during Annual Scientific Conference in Los Angeles, CA
ACFAS Southeast Region support of posters and manuscripts presented at the Annual Scientific Conference in Los Angeles, CA
---
Dues
A portion of ACFAS member dues is allocated for Region activities. Regions use these funds to further the goals of ACFAS at the state and local level: to promote the superior care of foot and ankle surgical patients through education, research and promotion of the highest professional standards. Regions also work on outreach to students and residents, helping to give them a successful start in their career as a foot and ankle surgeon.
Regions are affiliate organizations of the American College of Foot and Ankle Surgeons. They are granted a charter and license to use the ACFAS name and logo, are mandated by their own articles of incorporation and bylaws, and remain separate entities from the parent organization.
For more information about Region activities, please contact Michelle Kennedy, ACFAS Director of Membership and Post Graduate Affairs.
---
Contact the ACFAS Region Presidents Council Chair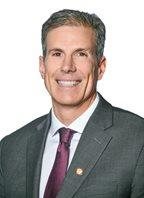 Gregory P. Still, DPM, FACFAS
Wheat Ridge, CO
Phone: (303) 422-6043