Tri-State Region
Delaware, New Jersey and Pennsylvania
Tri-State Region President
Jarrett D. Cain, DPM, MSc, FACFAS
Pittsburgh, PA
Phone: (412) 232-9089
Contact the Tri-State Region
---
Tri-State Region Officers
Jennifer Van, DPM, FACFAS
Vice President
Philadelphia, PA
(215) 625-5348
Maryellen P. Brucato, DPM, FACFAS
Secretary/Treasurer
Clifton, NJ
(973) 955-0260
James P. Sullivan, DPM, FACFAS
Director of Education
Sea Girt, NJ
(732) 974-8200
Tri-State Residency Director Mentors
Andrew J. Meyr, DPM, FACFAS
Temple University Hospital
Philadelphia, PA
(215) 625-5353
---
Recent Activity and Upcoming Events
ACFAS Tri-State Region Meeting
ACFAS Membership Meeting - Tri-State Region:
(Delaware, New Jersey and Pennsylvania)
Date: Saturday, February 11
Time: 12-1 pm PT
Location: Los Angeles Convention Center, Room 153B

Your Region will be holding a meeting of its members during the 2023 ACFAS Annual Scientific Conference in Los Angeles. We hope that you can join us to meet your Region officers, hear about their support of local research and plans for the upcoming year, and more! Members who attend will be entered into a drawing for a $100 Amazon Gift Card.
We hope to see you in Los Angeles!
Tri-State Region ASC Manuscript/Poster Guidelines
1. All forms must be submitted to James Sullivan(jpsdpm@verizon.net) by January 13, 2023 as the checks will be pre-written.
2. Please use the following format for the subject line: "First Initial. Last Name - Poster Support (or Manuscript Support), Institution" (For example J. Cain - Poster Support, UPMC Hospital)
3. One primary author per poster/manuscript eligible for funding support (maximum of 3 per institution).
4. Requests will be given on a first come, first served basis should there be more than 3 posters/manuscripts per institution. You will receive an email confirmation upon receiving your request.
5. Individuals must physically be present at the region meeting at ASC (tentatively scheduled for Saturday, February 11, 2023 at 12pm) to collect the check. Please refer to official program to confirm time/date.
Calling All Young Researchers: Local ACFAS Regions Have Funds to Support Your Research Efforts
Application Deadline: January 13

Are you a student, resident or post graduate fellow presenting an accepted poster or manuscript at the ACFAS Annual Scientific Conference in February? Could you use some extra money to apply toward your travel costs? The ACFAS Regions can help!
If you've submitted a poster or manuscript that is accepted for presentation at the conference and you are interested in receiving funding from your local Region, complete an application for support. Poster submitters are potentially eligible for $250, and manuscript presenters are potentially eligible for $500. Complete rules for acceptance and provision of funds can be found on the application form.
Please submit the completed form directly to your Region's President (names and email addresses are available on the form) by Friday, January 13, 2023. Each Region will determine the number of awards they can provide based on the number of submissions received and will contact you directly with next steps.
The ACFAS Regions are happy to be able to support the next generation of researchers in their parts of the country.
Tri-State Region Provides Local Support to Residents and Researchers
In an effort to assist its resident members prep for Boards, the Tri-State Region provided financial support for the 11th Annual Board Review for chief residents. This event was helmed by Dr. Andrew Meyr at Temple University.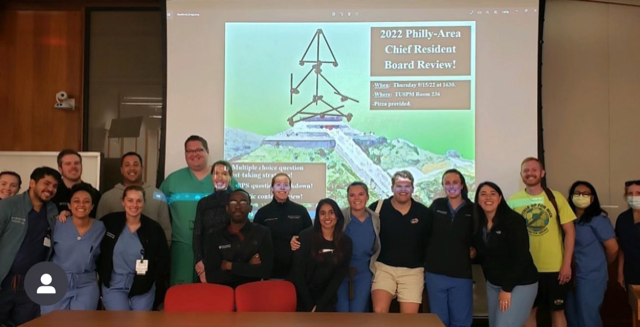 The Region also wants to encourage local researchers! It has pilot grants for residents, fellowships, and attendings in the area. Supported projects include:
JFAS Article: Load to Failure of the Ankle Joint Complex After Fusion of the Subtalar and Talonavicular Joints: A Cadaveric Study. Authors include Heidi M. Godoy, DPM, AACFAS, Michael Rotenberg, BS, Guido LaPorta, DPM, FACFAS, and Ryan Willing, PhD.
Research Poster: Three Dimensional Weightbearing CT Assessment of First Metatarsal Osteotomies for Hallux Valgus Correction. Authors include Jordan Stolle, DPM, Jarrett D. Cain, DPM, FACFAS, and Sorin Siegler.
Research Poster: 3-Dimensional Analysis of First Tarsometatarsal Joint After First Metatarsal Osteotomy with Weightbearing CT (WBCT). Authors include Jarrett D. Cain, DPM, FACFAS, Jordan Stolle, DPM, and Sorin Siegler.
Have a research project that you'd like to be considered for funding? Please contact your Region officers.
ACFAS Tri-State Region Funds Poster Research at the 2022 Annual Scientific Conference
In an effort to support research activities, the ACFAS Tri-State Region provided funding to the following residents as poster presenters at ACFAS 2022 in Austin:
Posters:
Comparative Outcomes of Arthroscopic Vs. Open Broström-Gould Repair for Chronic Lateral Ankle Instability

Priya D. Patel, DPM and Michael A. Thomas, DPM, MS, AACFAS

A Retrospective Comparison Review of Lapidus Fixation With or Without a Plate Stability

Brandon Schlakman, DPM and Alex Lakner, DPM

Arthroscopic Management of Osteoid Osteoma of the Talus

Hesam Naenifard, DPM, MPH, Chase Tamashiro, DPM and Joyann Oakman, DPM

Surgical Management of Avascular Necrosis of the Cuboid

Hesam Naenifard, DPM, MPH and Yvonne Baumrucker, DPM

Synovial Sarcoma of the Rearfoot: A Case Study

An Evaluation of Patient Characteristics Associated with Medical Disposition in the Surgical Treatment of Ankle Fractures

A unique case of first ray salvage using joint-spanning external fixation and split thickness skin graft in a healthy patient with post-operative wound dehiscence and osteomyelitis.
Kimberly J. Inocco, DPM and Michael Fox, DPM

A Comparison of Adverse Short-Term Outcomes Following Forefoot Amputation Performed on an Inpatient versus Outpatient Basis Retrospective analysis of lower extremity tissue loss associated with vasopressor use.
Sara Mateen, DPM

Tibiotalocalcaneal Arthrodesis for the Treatment of Midfoot Charcot Neuroarthropathy

Jacob M. Jones, DPM, Scott D. Schleunes, DPM, John E. Marshall, DPM and Vincent G. Vacketta, DPM

Minimally invasive first metatarsophalangeal joint arthrodesis: a case series

Digital Deformity Correction with Interphalangeal Joint Arthrodesis using ExoToe Implant: A Retrospective Comparative Review

Vincent G. Vacketta, DPM and Jacob M. Jones, DPM

The Incidence of Carpal Tunnel Syndrome in Patients with Established Tarsal Tunnel Syndrome: A Retrospective Review

John R. Greaves, DPM, AACFAS and Vishal S. Desai, DPM, AACFAS

Does Lateral Ankle Instability Lead to the Development of Additional Foot & Ankle Pathology?

Vishal S. Desai, DPM, AACFAS and John R. Greaves, DPM AACFAS

Post-operative Narcotic Use in Patients following Ankle Open Reduction Internal Fixation

Prospective in-vivo comparison of three intra-operative ankle syndesmosis stress techniques.

Time to Revision After Periprosthetic Joint Infection in Total Ankle Arthroplasty: A Systematic Review

Samantha A. Miner, DPM, AACFAS and John A. Martucci, DPM, AACFAS

Novel Tension Banding Fixation for a Tongue Type Calcaneal Fracture via Suture Anchors
Manuscripts:
First Tarsometatarsal Joint Arthrodesis

With

and Without Intermetatarsal Screw Fixation: A Comparison of Correction and Maintenance of Correction




Jacob M. Jones, DPM

,

Scott D.

Schleunes

, DPM

and

Vincent G.

Vacketta

, DPM

Concomitant MRI Findings in Patients with Suspected Plantar Plate Injuries and their Influence on Surgical Planning




Matthew Diamond, DPM
Congratulations to these resident and post graduate fellow authors on their research!
ACFAS Tri-State Region 2022 Meeting Outcomes
The Tri-State Region held their annual meeting with ACFAS 2022 in Austin, TX on February 25. Jarrett Cain, DPM, FACFAS, Tri-State Region President, led the discussion. The meeting provided an opportunity for members to meet Region officers and hear about our support and plans for the upcoming year including:
Regional Learning Programs in the Tri-State Region

Opportunities for a complications course in 2023

Tri-State Region support of poster/manuscript presenters

Tri-State Region planning for a student workshop and lecture
Attendees were entered into a drawing for a $100 Amazon Gift Card. Vishal Desai, DPM, AACFAS was selected as the winner.
ACFAS Tri-State Region Supports Student Scholar
ACFAS Region Scholars are funded by the ACFAS Region Presidents Council, specifically their home Region, and are usually the president-elect or an officer of their local ACFAS Student Club. Their local ACFAS Regions honor them as future leaders of the profession. Pictured below is Jacklyn Zvonar '24, the 2022 Region Scholar from Temple University College of Podiatric Medicine, along with Jarrett Cain, DPM, FACFAS, Tri-State Region President.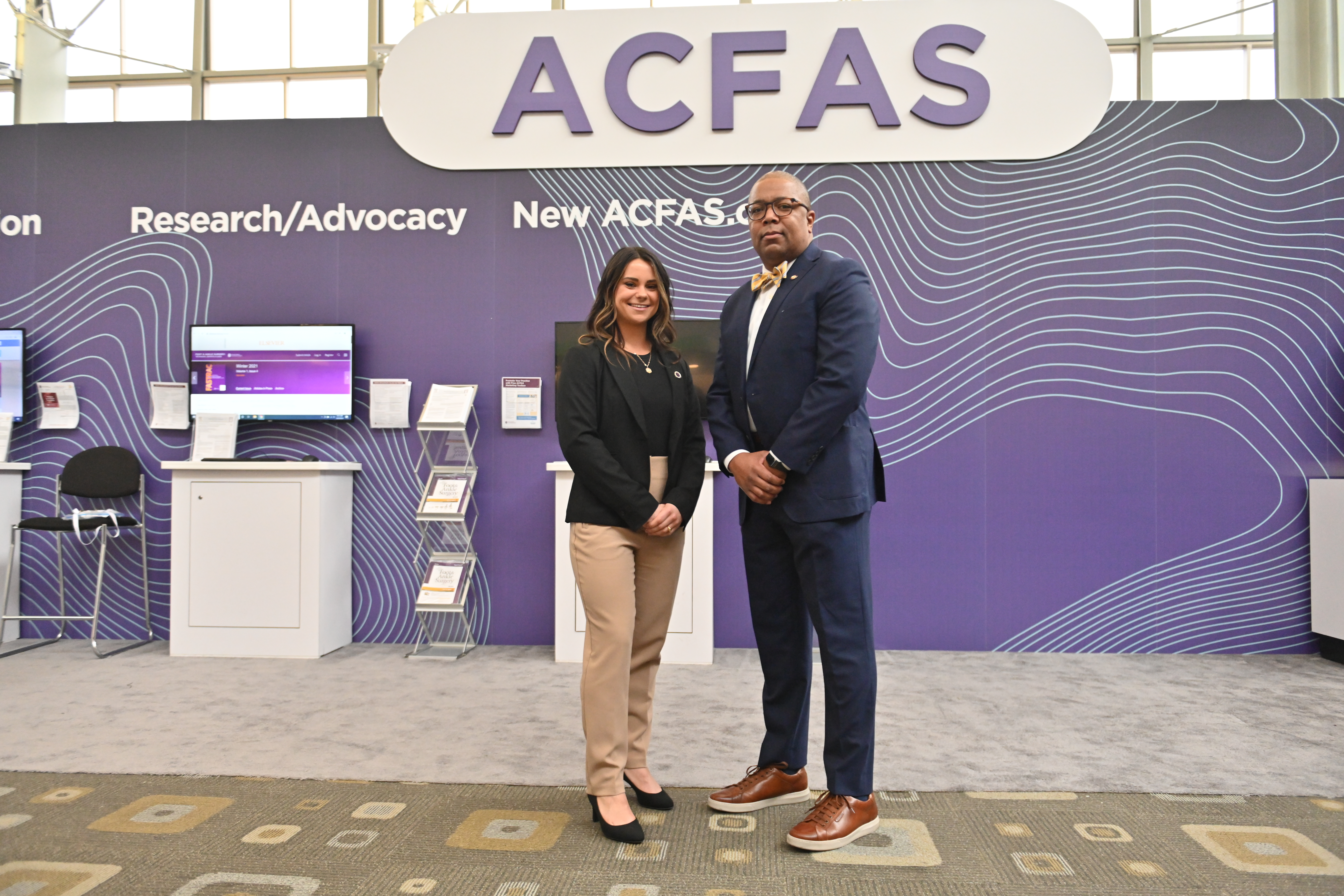 Congratulations to Jacklyn for being chosen as an ACFAS 2022 Region Scholar!
---
Region Goals for First Half of 2022
Attend Region Presidents Council Meeting held during the Annual Scientific Conference in Austin, TX.
Host ACFAS Tri-State Region Meeting held during Annual Scientific Conference in Austin, TX
ACFAS Tri-State Region support of posters and manuscripts presented at the Annual Scientific Conference in Austin, TX.
ACFAS Tri-State Region officer lecture to TUSPM Student Club.
ACFAS Tri-State Region support of ACFAS Student Club at TUSPM.
---
Dues
A portion of ACFAS member dues is allocated for Region activities. Regions use these funds to further the goals of ACFAS at the state and local level: to promote the superior care of foot and ankle surgical patients through education, research and promotion of the highest professional standards. Regions also work on outreach to students and residents, helping to give them a successful start in their careers as foot and ankle surgeons.
Regions are affiliate organizations of the American College of Foot and Ankle Surgeons. They are granted a charter and license to use the ACFAS name and logo, are mandated by their own articles of incorporation and bylaws and remain separate entities from the parent organization.
For more information about Region activities, please contact Michelle Kennedy, ACFAS Director of Membership and Post Graduate Affairs.
---
Contact the ACFAS Region Presidents Council Chair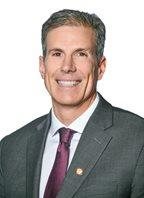 Gregory P. Still, DPM, FACFAS
Wheat Ridge, CO
Phone: (303) 422-6043