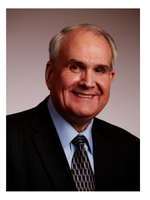 Words cannot express our profound sadness as we announce the recent passing of former ACFAS Executive Director Chris (J.C.) Mahaffey, MS, CAE, FASAE.
Chris started with the College in 2003 and served until his retirement in 2020. He was a dedicated leader to ACFAS and the profession as well as a friend and mentor to so many members, staff and colleagues. Chris chose to follow a path of public service within the field of association management where he was a luminary among association executives and helped to advance the mission of several institutions for over 45 years.
His countless contributions and accomplishments during his ACFAS tenure were extensive and always driven by the needs of the membership. Today, ACFAS members and staff continue to build on the foundation that Chris laid for us over the years. ACFAS "stands on the shoulders of giants" and Chris is certainly one of them.
ACFAS staff are in the final days of preparations for its 2023 Annual Scientific Conference next week. While we are thinking about Chris and his family, the team is proud to carry on his legacy.
Thank you, Chris, for being our inspiration, our mentor, and our friend.
"Together you have changed – and ARE changing—the course of American medical history."
Chris Mahaffey, MS, CAE, FASAE, The Evolution of a Profession
Chris' family has shared that there will be a memorial service in the coming months. ACFAS will share details as they are available.